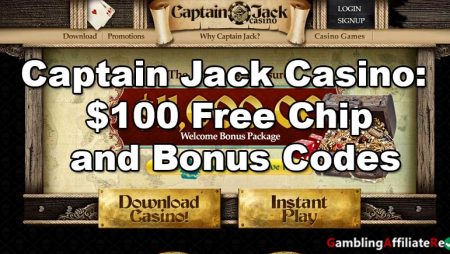 Captain Jack Bonus Codes
| Bonus Info | Code | Wagering |
| --- | --- | --- |
| 15 Free Spins on Lucha Libre 2 | LUCHALIBRE15 | 40x B |
| $50 No Deposit Bonus | CAPTAIN50 | 30x B |
| 100 Free Spins on Plentiful Treasure | FKC7Q | 30x B |
| 10 Free Spins on I Zombie | XFRMR | 30x B |
| $50 No Deposit Bonus | XF7KE | 30x B |
| $60 No Deposit Bonus | VEK6W | 30x B |
| 10 Free Spins on Cash Bandits 2 | J6NJEN | 30x B |
| 25 Free Spins on I Zombie | EG7Q3 | 30x B |
| 10 Free Spins on Stardust | DTM4P | 30x B |
| 265% up to $2650 match bonus | CAPTAINDEMAYO | 30x B+D |
| 200% up to $3000 match bonus | WELCOME200 | 30x B+D |
| 350% up to $3500 match bonus + 60 Free Spins | XDTWJ | 30x B |
| 310% up to Unlimited match bonus + 40 Free Spins | YG7HH | 30x B |
| 300% up to $6000 match bonus | M79M9 | 30x B |
Captain Jack Casino, the swashbuckling themed online casino, has been operating since 2008, beckoning adventurers with an attractive game selection, driven primarily by the Real Time Gaming software. This casino has managed to attract a myriad of players globally, primarily those from the United States.
And what's the siren's call that reels players in? For many, it's the allure of no deposit bonuses and $100 free chips.
Online casino enthusiasts often look up promotions such as Captain Jack Casino's no deposit bonuses or the enticing $100 free chip. These offers are a fantastic way for newcomers to experience the casino without any financial commitment and for regulars to extend their playtime. Yet, as appealing as these offers may be, it's always wise to tread carefully.
Given the rising popularity of such promotions, several stories have surfaced about players' experiences with Captain Jack Casino. Here's a quick glimpse of what some players have shared:
The Good: A player from the US highlighted a positive experience, mentioning a successful win of $100 from a no deposit bonus. The withdrawal was prompt, and they later made deposits to further enjoy various bonuses and free play offers.
The Bad: A disappointed player from Georgia shared a contrasting experience. After securing a $100 win from a no deposit bonus and meeting the required playthrough conditions, the casino unexpectedly removed their winnings without any clear explanation.
The Ugly: Another user, hailing from South Africa, detailed a troubling incident. Despite winning a notable amount and fulfilling all withdrawal requirements, the withdrawal was inexplicably canceled, with the funds transferred to an unknown recipient.
Regrettably, such experiences aren't unique. Numerous other users have expressed similar feelings of dissatisfaction with the casino. Common complaints revolve around delayed payouts, erratic customer service, and unexpectedly nullified winnings.
Yet, the picture isn't entirely gloomy. Signing up and claiming a free $100 offer can be enticing, and as long as you don't make a deposit, there's little to lose. Just be cautious and remember that some casinos might be reluctant to pay out winnings. After all, there are plenty of tales of players who have transformed free chips into a handsome payout.
In summary, while Captain Jack Casino offers some enticing promotions and a decent range of games, prospective players should proceed with caution. Navigating the world of online casinos is much like sailing the seven seas. It's filled with promise and potential treasures, but there are also pitfalls and rogue waves that can upend one's journey. It's always prudent to do thorough research, read reviews, and understand the terms and conditions before diving into any online casino adventure, especially when promises of free chips and $100 bonuses beckon.